Blazing Hank and the Bluesbullets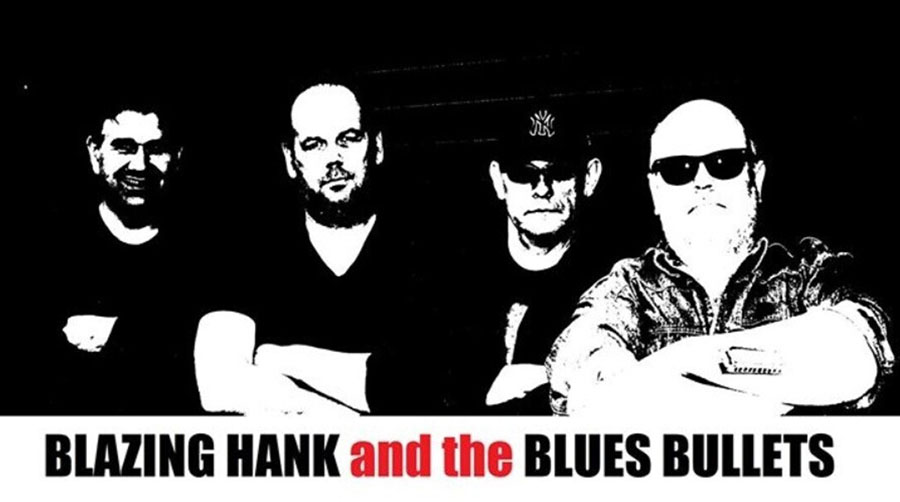 Na een hernieuwde start van de gezellige Bluesmiddagen in Grandcafé Carambole op zondag 26 september j.l. met de band Blues Reunion is het op zondag 31 oktober a.s. nu de beurt voor BLAZING HANK and the BLUESBULLETS om de vaste bezoekers van Carambole te verwennen met een dampende en stampende bluesmiddag.
Blazing Hank en zijn Bluesbullets zijn een Drents/Groningse viermansformatie met Assen als thuisbasis. Zij spelen zeer dansbare "Rocking " Chicago Blues in uptempo Style.
Dat is de basis van hun repertoire, daarnaast beheersen zij ook de gebruikelijke andere stylen. Met hun vieren smeden ze vanuit hun individuele ervaring in de "Blues" en de "Rock" deze uitersten met gloed en passie aaneen. Hun Bluesmission Teasing the public en na ieder optreden een dampend en zinderend podium achter te laten is dan ook voor the Blues Bullets een must.
De formatie bestaat uit de volgende personen:
André Mepschen – Guitar Bullet, Peter Griever – Drum bullet, Erik Walters -Bas Bullet, en tot slot Henk van Embden, zingend en bluesharp spelend, als Blazing Hank.
Inmiddels zijn we vanwege de coronamaatregelen gewend geraakt aan de gebruikelijke toegangscontrole met de QR-code, hetgeen mogelijke alweer z'n langste tijd heeft gehad??
De zaal gaat om 15:00 uur open en staat het Team van Carambole weer klaar om de bezoekers te ontvangen. Livemuziek is zoals gebruikelijk van 16:00 tot 19:00 uur en de entreeprijs van 8,50 euro blijft gehandhaafd.
Welkom in Grandcafé Carambole, namens het Team en de
Stichting Oldambtblues
Herman Manders