Bluesdiggers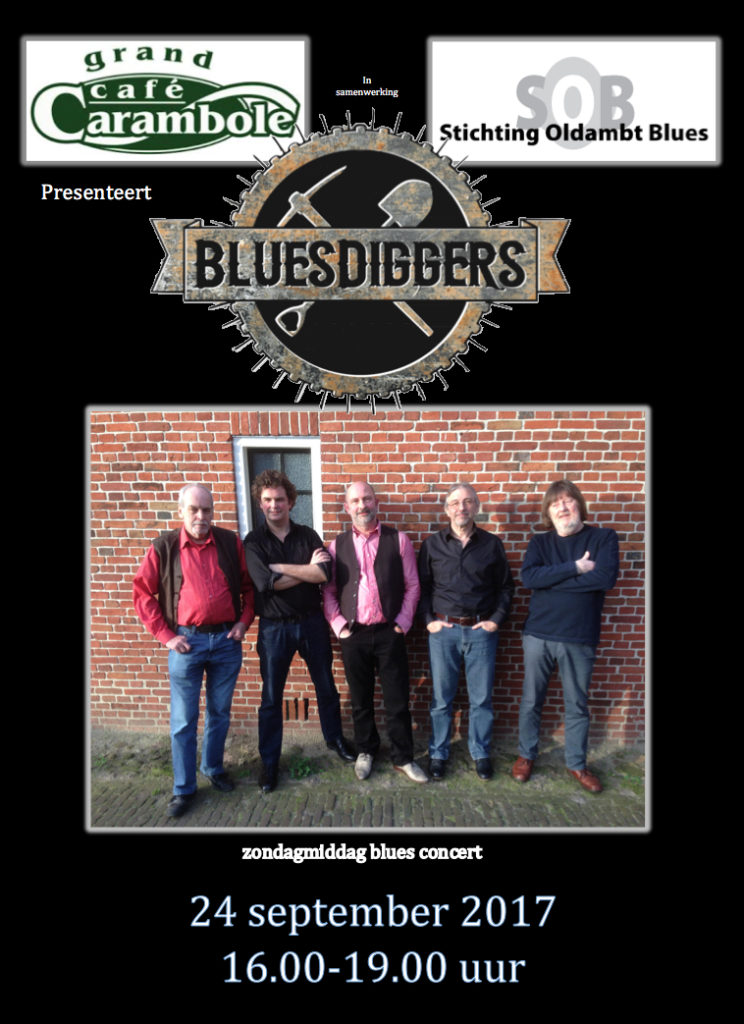 De Stichting Oldambtblues start op zondag 24 september a.s. het Bluesseizoen 2017/2018 in Winschoten met onvervalste blues van de Bluesdiggers.
The Bluesdiggers: We love to dig into the blues because we dig the Blues.
Met bovenstaand motto hebben The Bluesdiggers nadrukkelijk een stempel gezet op hun passie voor de blues. Bezing je ellende dusdanig dat iemand anders daar vrolijk van wordt en houdt het muzikaal bij maximaal drie akkoorden, dat is het geheim van deze bluesformatie waarvan de bandhistorie ruim 30 jaar teruggaat. Naast het werk van de grote meesters verrassen zij het publiek graag met eigen werk wat de ware bluesliefhebber als muziek in de oren klinkt. Elk optreden van de band is opbeurend, swingend en nodigt uit voor een feestje.
De Band bestaat uit:
Peter van Heereveld – zang/gitaar, Ronald van Hessem – toetsen, Wouter Vuijk – gitaar/slidegitaar, Lex van Heereveld – basgitaar en Ids Dijkstra – drums.
En, zoals we gewend zijn van onze gastheer van Grand Café Carambole zal hij zijn uiterste best doen om deze middagen op gezellige wijze te laten verlopen met diverse gratis hapjes uit eigen keuken. De zaal gaat open om 15:00 uur en wordt er live gespeeld van 16:00 uur tot 19:00 uur. De toegangsprijs blijft gehandhaafd op 7,50 Euro.
Verdere informatie is te vinden op de volgende websites en facebook: www.stichtingoldambtblues.nl , www.carambole-winschoten.nl, www.bluesdiggers.nl