Oldambt Bluesfestival 2016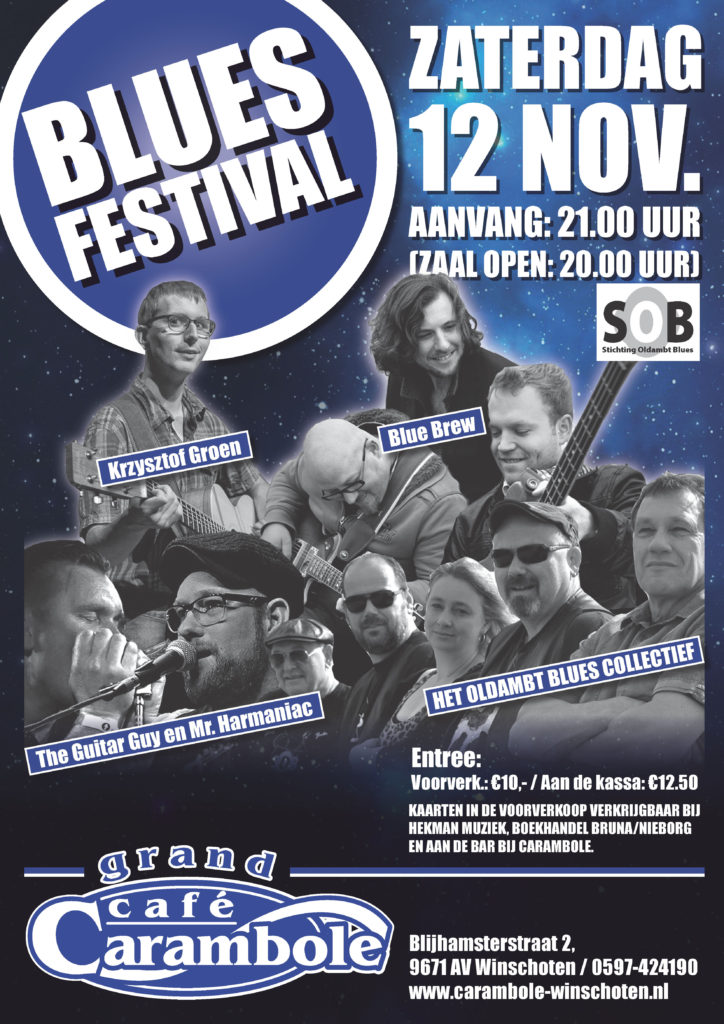 De Stichting Oldambtblues organiseert in samenwerking met Grandcafé Carambole het Oldambt Bluesfestival 2016 op zaterdag 12 november '16.
De Stichting heeft inmiddels 4 sterke troeven in handen voor een geslaagd festival op za. 12 november a.s. aanvang om 21:00 uur. De aftrap zal gedaan worden door het duo The Guitar Guy and Mr. Harmaniac gevolgd door de winnaar van het Tellerlikkerfestival 2016 van afgelopen september, Krzyzstof Groen. Vervolgens treden op Het Oldambt Bluescollectief en de Bluesrockformatie Blue Brew met tussendoor nog een tweede optreden van The Guitar Guy and Mr. Harmaniac. Op 2 verschillende podia zullen de muzikale acts afwisselend te horen en te zien zijn. De kaartverkoop start zaterdag 29 oktober bij boekhandel Bruna en Hekman Muziek, CD-Speciaalzaak, beide in de Torenstraat te Winschoten, en Grandcafé Carambole. De toegangsprijs in de voorverkoop is vastgesteld op 10,00 Euro en op 12 november aan de zaal op 12,50 Euro. De zaal gaat open om 20:00 uur.
Met het wederom organiseren van jaarlijkse bluesfestival heeft de Stichting Oldambtblues inmiddels een stempel gezet op het bluesgebeuren in de Regio Noord-Oost Groningen en Grandcafé Carambole een bekende naam heeft verworven als Muziekcafé tot ver over de grens.
Verdere informatie is te vinden op de volgende websites en facebook: www.stichtingoldambtblues.nl en www.carambole-winschoten.nl