Oldambt Bluesfestival 2018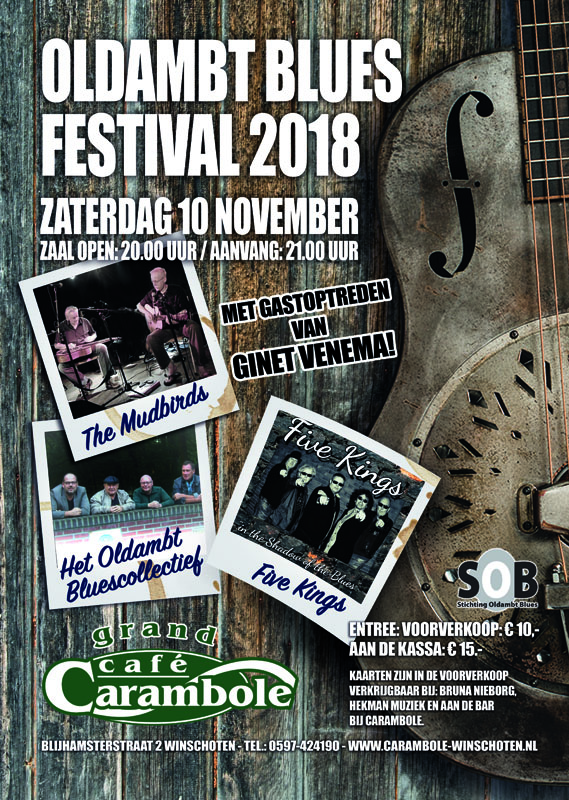 De Stichting Oldambtblues ​​organiseert op zaterdag 10 november a.s. het Oldambt Bluesfestival 2018 in Grandcafé Carambole te Winschoten.
De hoofdacts voor deze avond zijn ​The Mudbirds​​, Het ​Oldambt Bluescollectie​​f en ​The Five Kings.
Slideguitar harmonicablues and Winners of the Dutch Blues Challenge 2011.​ The Mudbirds​​, het UK/ Ned. duo bestaande uit Alan Laws – akoestisch gitaar, zang, harmonica, shrutibox​ ​​en René Tweehuysen – dobro, bottleneck slide guitar, weissenborn zijn in 2007 samen begonnen met het aanvankelijk spelen van eigenzinnige bewerkingen van blues traditionals. In Memphis in 2012 vertegenwoordigden zij Nederland tijdens de International Blues Challenge en werd hun eerste CD " Slick Blues " met veel lof onthaald.
Het ​Oldambt Bluescollectief, OBC ​​genoemd,​ ​​is een initiatief van de ​Stichting Oldambtblues​​, welke is ontstaan in 2014. Het ​OBC ​​bestaat uit 4 muzikanten, die grote affiniteit hebben met de bluesmuziek en hun repertoire bestaat uit een brede afspiegeling met de blues van de '60 en '70 jaren. Met het tussentijds uitnodigen van kollega-muzikanten proberen zij een ruime blueskring op te bouwen. Basisleden van het ​OBC ​​zijn frontman Hans Elbersen – vocals, gitaar en bluesharp, Peter Griever – Drums, Jan Ties Toxopeus – basgitaar en Herman Manders – vocals en gitaar. Als gastmuzikante bij het Oldambt Bluesfestival 2018 hebben zij voor een aantal vocale nummers Ginet Venema uitgenodigd.
Met de ​Rock Blues Five Kings ​​zal het festival omstreeks 01:00 uur eindigen. Al eerder in 2017 hebben wij kennis kunnen maken met deze geweldige formatie tijdens de afsluiting van het voorseizoen. Het concert waarbij de vonken er van afvlogen staat bij menigeen nog vers in het geheugen en was voor de Stichting Oldambtblues reden genoeg om de formatie ​Five Kings ​​uit te nodigen voor het Oldambt Bluesfestival 2018. ​​De band bestaande uit Marcel K – frontman/zang, Ebbo – basgitaar, Jaap – drummer, Marcel K – Hammond/toetsen en Jan Marcel – gitaar, 5 muzikanten uit het Noorden welke al menig podium hebben mogen betreden, zullen met hun uitgekiende repertoire een ware afsluiter zijn van het festival in Grandcafé Carambole.
Aanvang van het festival is om 21:00 uur (zaal open 20:00 uur). Toegangskaarten aan de zaal 15,- euro (Voorverkoop 10,- euro)
Verdere informatie is te vinden op de volgende websites en facebook: www.stichtingoldambtblues.nl​​ en ​www.carambole-winschoten.nl