Sweet Bourbon & the Bourbonnettes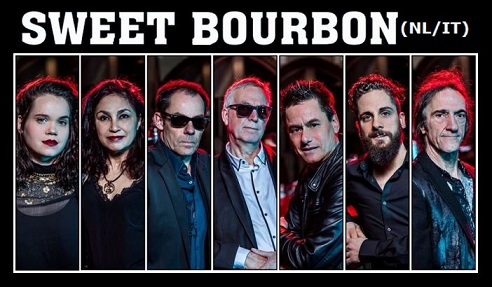 De Stichting Oldambtblues organiseert een gezellige Bluesmiddag op zondag 25 nov.'18 met Sweet Bourbon & the Bourbonnettes.
Sweet Bourbon is net als een goede bourbon en samenspel van verschillende ingrediënten die voor smaak en aroma zorgen. Zo is Sweet Bourbon ook een samenspel maar dan van gepassioneerde muzikanten, afkomstig uit diverse muzikale richtingen en met een gezamenlijke voorliefde voor " the roots ". Deze band smaakt echter als een recept dat door jaren van rijping een uitgebalanceerde smaak heeft gekregen. Zoals Chris, René, Roeland, Willem, Ruben en hun Bourbonnettes zelf zeggen: " a new blues sound ".
Met hun 2e album " Night Turned Into Day " ontdek je de unieke sound met invloeden uit de rock, blues, soul en pop met de originele mix van eigen werk en " good old classics ". Sweet Bourbon werd opgericht in 2014 en heeft ondertussen menig podia mogen betreden en met succes. Sweet Bourbon " It's a taste of ………… , vul het zelf maar in!
En, zoals we gewend zijn van onze gastheer van Grand Café Carambole zal hij zijn uiterste best doen om deze middag op gezellige wijze te laten verlopen met diverse gratis hapjes uit eigen keuken. De zaal gaat open om 15:00 uur en wordt er live gespeeld van 16:00 uur tot 19:00 uur. De toegangsprijs blijft gehandhaafd op 7,50 Euro.
Verdere informatie is te vinden op de volgende websites en facebook: www.stichtingoldambtblues.nl , www.carambole-winschoten.nl, www.sweetbourbon.nl