Oldambt Bluesfestival 2019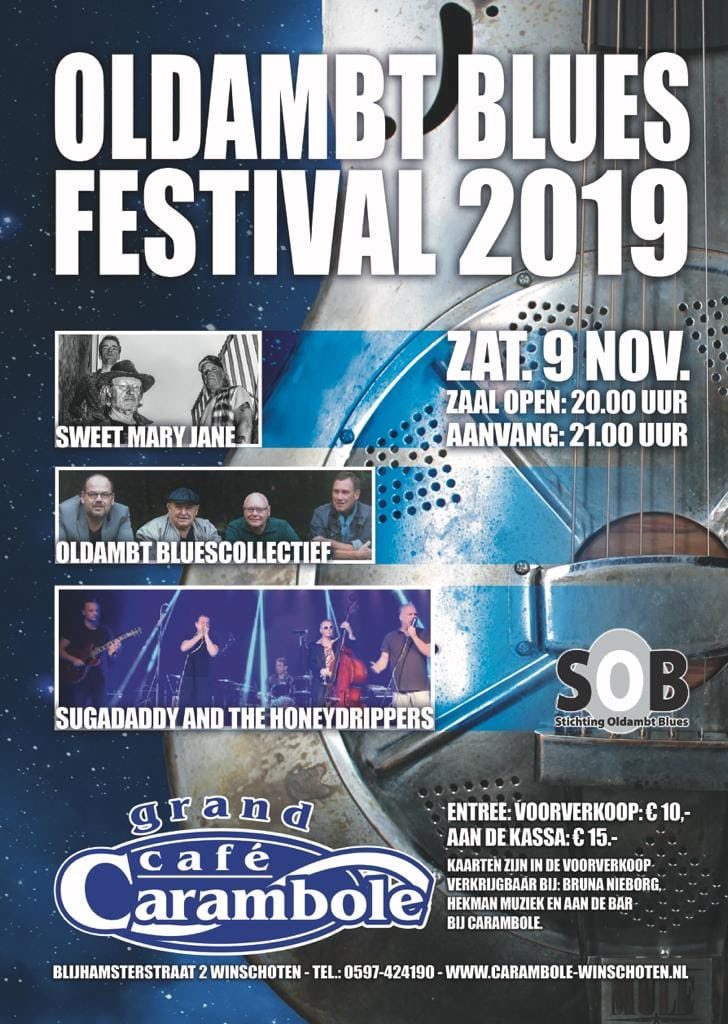 De Stichting Oldambtblues organiseert op zaterdag 9 november a.s. Het Oldambt Bluesfestival 2019 in Grandcafé Carambole te Winschoten.
Het jaarlijkse Bluesfestival trekt ieder jaar weer vele bezoekers naar het Grandcafé, niet zozeer vanwege zijn kleinschaligheid maar meer vanwege de gezelligheid die Carambole uitstraalt. Ook dit jaar staat de kwaliteit bij ons voorop. Bands die door hun optreden bij Carambole in het oog springen krijgen met het Bluesfestival de kans zich nogmaals te manifesteren en daarom hebben we dit jaar gekozen voor de Amsterdamse formatie SWEET MARY JANE en de Drentse formatie SUGADADDY & the HONEYDRIPPERS op het podium in de zaal, terwijl het OLDAMBTBLUESCOLLECTIEF in een nieuw jasje " acte de presence " zal geven op het gezellige podium van het café.
Power Trio SWEET MARY JANE is geformeerd rondom frontman Fred van Willigen en is geïnspireerd door de gitaarhelden van de Bluesrock. De band is in staat om je naar hogere sferen te brengen met muziek van de 60'er en 70'er jaren.
SUGADADDY, Paul van den Berg, & the HONEYDRIPPERS is een strakke Westcoastband. Hun muziek, Rock & Roll, Rhythm & Blues en Westcoast Swing, een beetje in de traditie van de vroegere Hollywood Fatsband, uniek en speciaal voor festivals.
Het OLDAMBT BLUESCOLLECTIEF geen onbekende meer voor Carambole is momenteel de toer opgegaan om naast het danspubliek ook het luisterpubliek te verrassen met hun vertolkingen van de 60'er, 70'er en 80'er jaren Rhythm & Bluesmuziek.
De voorverkoop ( 10,- euro ) is inmiddels in volle gang bij o.a. Bruna Nieborg, Hekman Muziek en aan de bar bij Carambole. Indien er nog kaarten over zijn op zaterdag 9 november dan kosten ze 15,- euro aan de kassa.
Het Oldambt Bluesfestival 2019 beloofd ook dit jaar weer een succes te worden in Muziekstad Winschoten, voor verdere info, zie ook:
www.stichtingoldambtblues.nl , www.carambole-winschoten.nl , www.sweetmaryjane.nl en www.sugadaddy&thehoneydrippers.nl