Sugadaddy & the Honeydrippers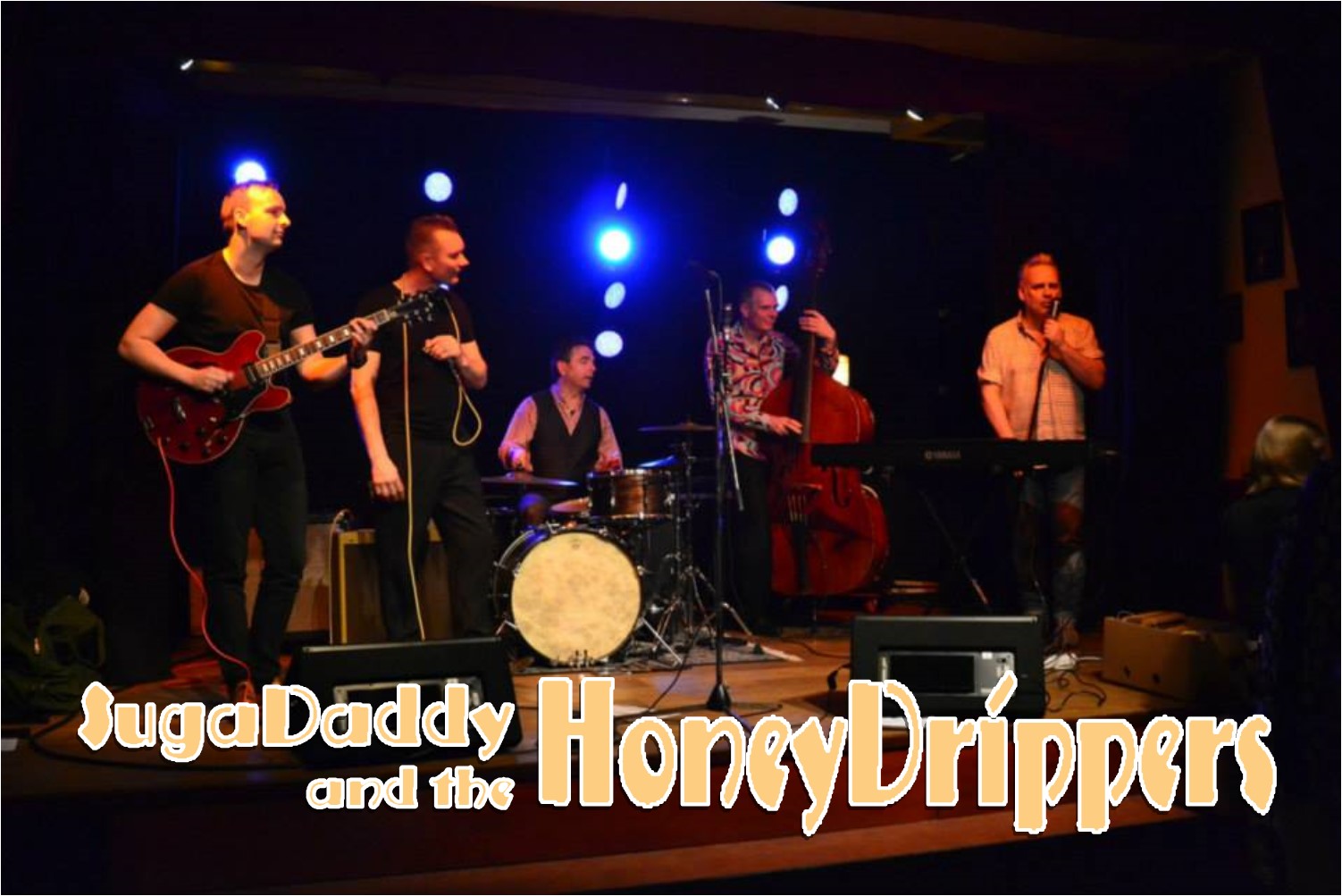 De Stichting Oldambtblues presenteert op zondag 29 april '18 de West Coast Swingband SUGADADDY & THE HONEYDRIPPERS.
Een strakke band met Rock and Roll, Rhythm and Blues and Westcoast Swing. Een beetje in de traditie van de vroegere Hollywood Fats Band. Voor de festivals iets speciaals, want deze muziek hoor je in Nederland bijna niet meer, maar voor andere gelegenheden natuurlijk ook. Echte geluiden zoals in de jaren vijftig waar op gedanst kan worden. Eigen repertoire wordt afgewisseld met vrij onbekende nummers uit die tijd. Bij deze band staan de neuzen allemaal in dezelfde richting, wat duidelijk is te herkennen aan hun enthousiasme bij elk optreden. De band speelt overal in Nederland, België en Duitsland.
De band is geformeerd rond Sugaddy, Paul van den Berg, m.m.v. Erik Niemeijer (harmonica's), Thomas van den Berg (guitars), Hans Niemeijer (upright bass) en Gerrit Bruinink (drums).
En, zoals we gewend zijn van onze gastheer van Grand Café Carambole zal hij zijn uiterste best doen om deze middagen op gezellige wijze te laten verlopen met diverse gratis hapjes uit eigen keuken. De zaal gaat open om 15:00 uur en wordt er live gespeeld van 16:00 uur tot 19:00 uur. De toegangsprijs blijft gehandhaafd op 7,50 Euro.
Verdere informatie is te vinden op de volgende websites en facebook: www.stichtingoldambtblues.nl , www.carambole-winschoten.nl, www.sugadaddyandthehonydrippers.nl