The 4Horsemen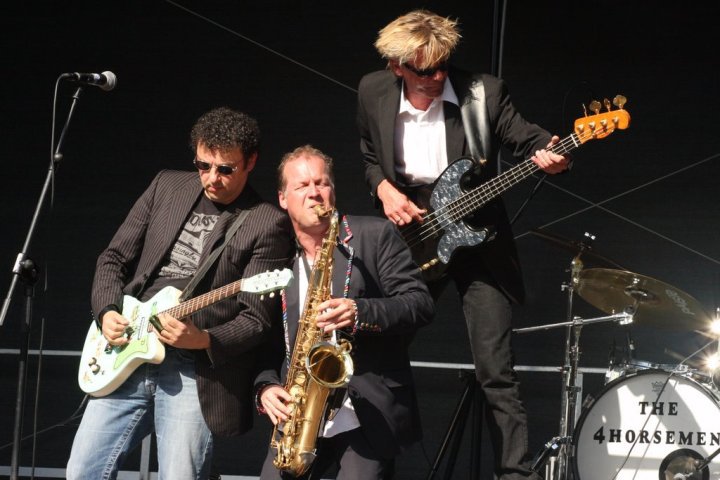 De Stichting Oldambtblues presenteert op zondag 27 november a.s. de bluesformatie The 4Horsemen in Grandcafé Carambole in Winschoten. Een swingende band en publiekslieveling in tal van muziekcafé's en bij menig Festival.Eigen werk wordt afgewisseld met zelf gearrangeerde versies van bluescovers en variërend van nummers met stevige gitaarsolo's tot gevoelige bluesballads.
De band staat bekend om zijn energieke en enthousiaste live optredens bij met name de grotere bluesfestivals. The 4Horsemen is een in 2006 opgerichte 4koppige bluesformatie uit Groningen en zijn actief in heel Nederland. Buiten dat zijn zij ver over de grenzen gegaan in Duitsland, in België en in de geboortestad van Rory Callagher in Cork, Ierland, in een speciaal aan hem gewijde music club. In hun repertoire is een tribute opgenomen aan Cuby and the Blizzards.
De bezetting bestaat uit:
Joost Kerseboom – gitaar, Gertjan Blaauw – vocaal, tenorsax en percussie,
Werner van Baarsen – bas en backing vocals en Hubert van der Jeugd – drums.
Tot nu toe zijn er 2 CD's uitgebracht: Stepping Out ( 2010 ) en Lucky ( 2015 ).
Onze gastheer van Grandcafé Carambole heet jullie op zondag 27 november van harte welkom. De deuren gaan open om 15:00 uur en er wordt gespeeld van 16:00 tot 19:00 uur. De toegangsprijs blijft gehandhaafd op 8,50 euro.
Verdere informatie is terug te vinden op www.stichtingoldambtblues.nl, www.carambole-winschoten.nl en www.the4horsemen.nl